My first clue should have been the text messages.
Earlier in our marriage, Naijawife could send me up to 30 messages a day.  Mostly in the same theme.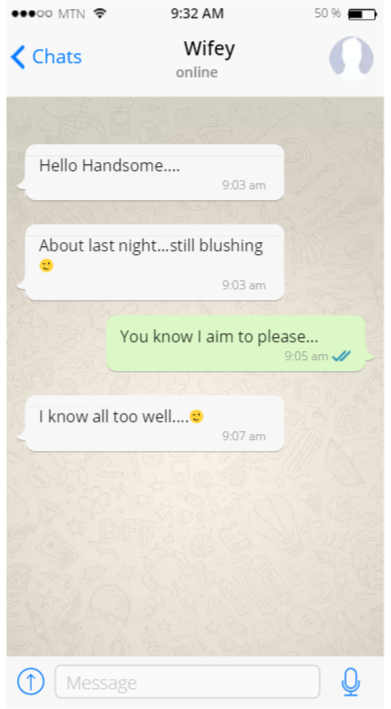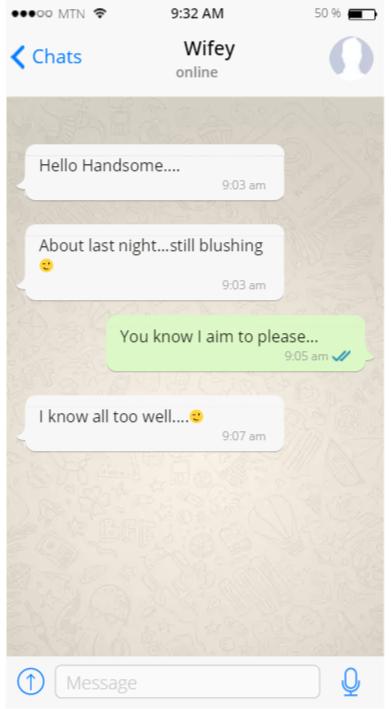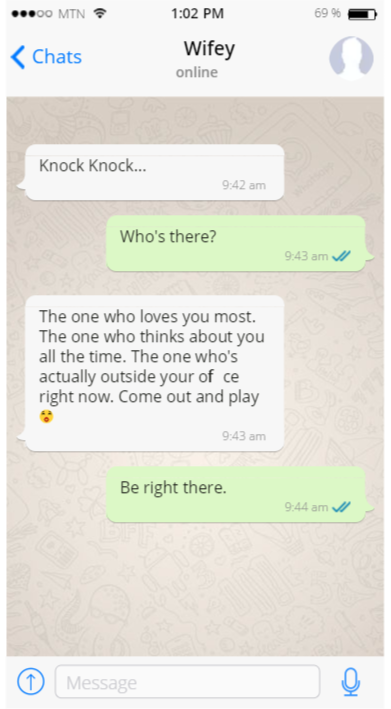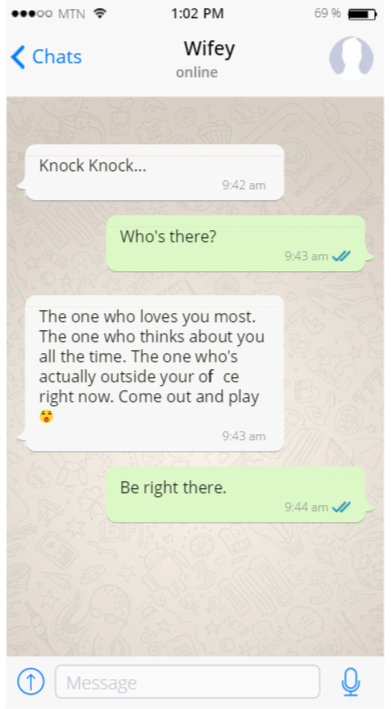 I don't mean to share too much information, but that's what I was used to seeing from her.  Those mid-morning "thinking about you" reminders that she was so fond of.  They were the kind of messages that made you not really want to concentrate at work anymore.
And then at some point the tone of the messages started to change…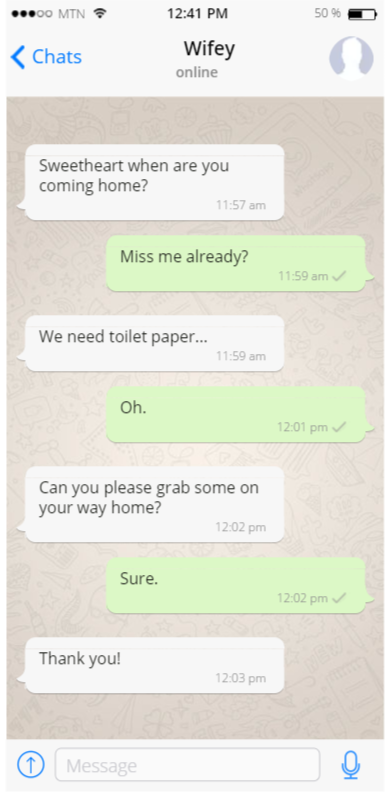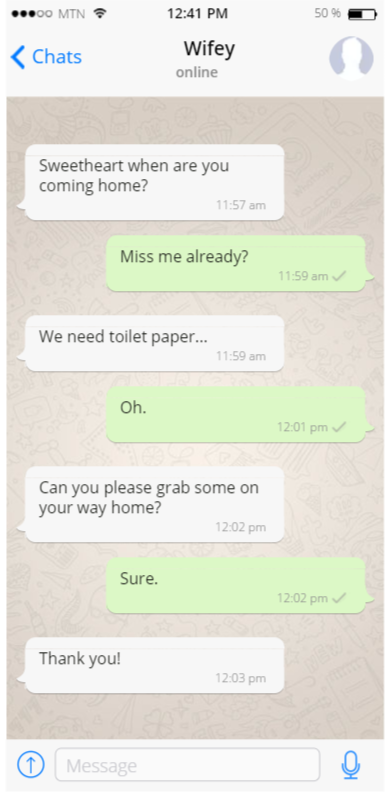 So yeah, the romance may have been fading a bit.  But I wasn't worried.
Until the messages took a new turn.
and
Followed by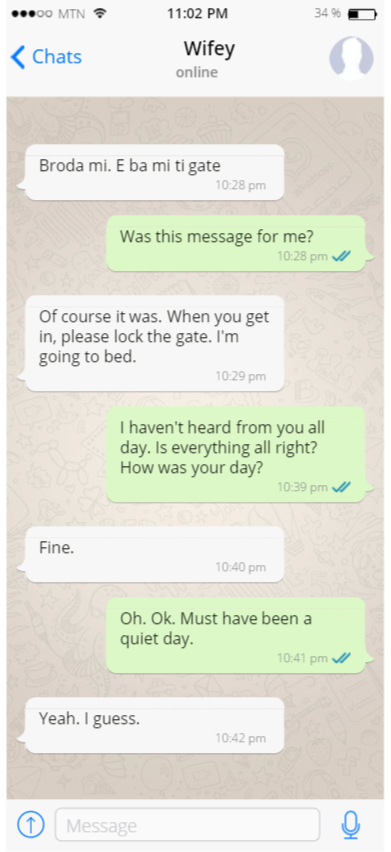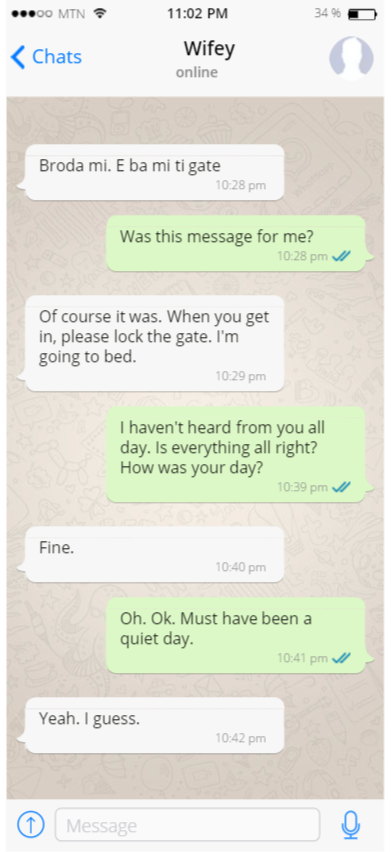 Broda Mi???
Not gonna lie. That "broda mi" message hurt the most.  It was like I jumped and passed the Friend Zone to enter straight into….
The Brother Zone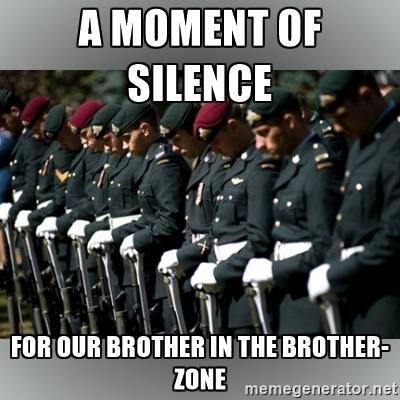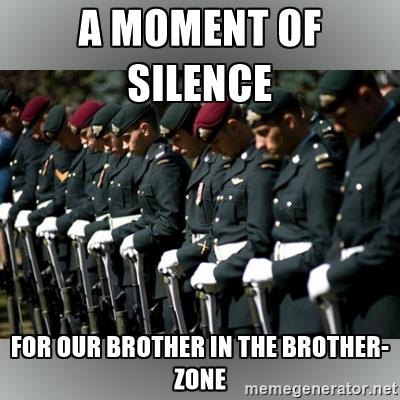 And then, as if the messages weren't enough, and as if it wasn't already mortifying to be friend/brother zoned by my own wife, she started talking like that in public.  At one party, she actually introduced me as her "bestie."
The confusion on my face was only matched by the confused look on the face of the person she introduced me to.
"Bestie?  Thought you were coming with your husband?"

"Ah ah. He IS my husband."

"Awww! I get it!  You're married and you're best friends.  That's so sweet.  You two are really blessed."
Naijawife smiled at this response.  While I continued looking confused.
Besties?  With my own wife?
Well that was my wake up call. I may not be the most astute man on the planet, but eventually I can take a hint.  I knew I was lucky I had even noticed, so I thought to myself…maybe I can step in and do something to fix this now.
So I had a good…long…think, and really reflected on what had happened to us.
The change must have happened somewhere in between my long hours and long nights at work.  It must have crept in during the weekends I went into the office or the times I stayed up late blogging and answering #AskNaijaCouple emails.  Maybe it happened when I had to cancel a vacation we'd been planning for a long time. but either way, I knew I'd been missing in action for a while.  At first I assumed she was cool with it, but the complaints kept rolling in. "You haven't been home for a full week in a long time." "You're always traveling." "When are you coming home?"
Well after some reflection, I realized that I remembered the complaints…but I didn't remember talking about them.
Eventually she stopped complaining and I assumed she had finally adjusted.  Surely she understood that work was busy?  She had to get that I was making more money right?  She should have been happy I was hustling for our future…right?
Better safe than sorry.  So I thought I'd ask her just to be sure.
At first she denied it…"What are you on about? I was just joking when I called you "broda mi" can't you take a joke?"
But I continued prodding.
Until finally she exploded.
"Well what did you expect?" "Do you think you can ignore me all this time and I'll just sit here and take it quietly?  You're NEVER here! And even when you are, you still AREN'T!  You used to call me six times a day! But now nothing!  When I call you at work you're busy.  When I text you, you take forever to respond. You come in after a long trip and you head straight for your computer. That blasted laptop gets more action than I do!  Then when you're done caressing your computer, you go and fellowship with your television.  Then you crawl into bed exhausted while I lay there ANGRY and you don't even notice!  So tell me now, what did you THINK was going to happen?  Do I look like a lump of wood to you?  Do you think I don't have needs or emotions?  At this point, we might as well just be housemates!"
To be continued….