Christmas is around the corner, and I'm reminded of the first Christmas gift I ever gave NaijaWife.
I remember handing the gift to her confidently, relieved that I didn't have to worry about whether she'd like it, because I already know she would. But when she took it in her hands and a look of disappointment passed over her eyes, I knew I'd made a mistake.
I had purchased the right item. I was sure of it. So what was the problem this time? What caused that look of disappointment? Had she changed her mind about what she wanted? Was there something special I was supposed to say as I handed it to her? Something romantic and flowery like: "I present to you o fairest of the fair, a token of my deepest affection this hallowed Christ Mass."
Or worse…had I actually missed Christmas?
I didn't have to wait long before she told me. (NaijaWife can't keep anything bottled inside).
"I can't believe you wrapped this in newspaper"
There it was. My crime was not the gift. It was the presentation.
She launched into a speech about how the presentation counts almost as much as the gift and even though my eyes glazed over as she spoke, I had to eventually admit that perhaps it wasn't the best wrapping option.  But back then I really didn't see the point in fussing about wrapping paper. After all, won't she still take it off? But I kept my thoughts to myself as she reached behind her and grabbed the stack of gifts she had for me.
See wrapping.
The kind of wrapping that looked like it wasn't meant to ever be opened but should be placed in a display case instead, as a monument to an eternity of gift giving.  On the top of her glittering stack were taped 3 cards.
3 CARDS??
Crap.
I'd forgotten to get her a card. I panicked for a quick second, then shrugged it off. Honestly, what would a card have done? I could tell her the same message by word of mouth right?
But sure enough, just as soon as I thought it, she looked around and asked "You didn't get me a card?" as she shifted my newspaper gift from hand to hand.
I contemplated launching into a speech about how Christmas is about Christ, not gifts. And how whether the gift was nicely wrapped or not was not the issue, all that mattered was the gift of God's love.
But the look she gave me cut that thought out fast.
No card. And a badly wrapped gift. I was 0-2 at this point. So I simply crossed my fingers in the hopes that she'd bear no grudge once she actually unwrapped the gift to find what she wanted underneath. Smiling to myself, I could picture her jumping into my arms with gratitude and tears in her eyes, "Thank you! Thank you! It's just what I've always wanted! You're the best boyfriend ever!" I even started to smile to myself as I imagined just how "grateful" she would be…
But once again, I was wrong.
"Oh." She said as she finally tore off the newspaper. She had on that cool, cool smile of hers but she couldn't hide the disappointed tone in her voice when she said "You got me what I wanted….thanks."
Then she looked around again.
"What else did you get me?"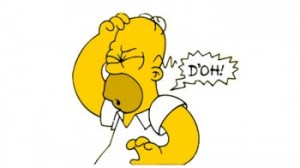 I was supposed to get her another gift?!! Wasn't the gift she wanted enough?
"No." She explained. Because I already knew about that one, there was no surprise left, so you should have gotten me another one that I didn't know about."
Well that was the first gift giving and since then, buying a gift for NaijaWife has been one lesson after another.  After the initial badly wrapped gifts, came the gifts that lacked "originality", the gifts that I'd "forgotten I'd already given her the year before", followed by the gifts that were really just gifts I "intended for myself" ( I had to agree. That Playstation was really for me) or the gifts that were "further subjugation of her gender."
Now that we're married. The gift issue has expanded.
"What are you getting for your mother…You can't just give her cash! that's tacky!" "What are you getting for your brothers? Please don't give them any more alcohol paraphernalia" "What are we giving my parents? They need to feel that you're a generous son-in-law or they'll think I'm suffering with you!" 
Well now Christmas is around the corner. Which means my panic is slowly increasing.
Even after all the birthdays/holidays/anniversaries, and mastering the art of buying multiple cards with just the right wording to make her shed a tear, and learning how to wrap the presents with proper wrapping paper the way she does (though I suspect she has hers professionally done), I've slowly run out of ideas.  Gone are the quick gifts of jewelry, perfume and bags. She's just not into them. Books are out because she's probably already read the books I'm thinking of buying her (and she really hates the "financial planning" books that I'd prefer to give her). Cash is always out, and clothes…well, forget about it.
You've got no idea what I could get her either right? Well neither do I.
Actually maybe I have a slight inkling. Over time, I've come to learn that wives drop hints. Copiously and frequently. They may not all be signs and wonder type hints, but they're usually loud enough if you're paying attention to the language she speaks.
For example, if there's one thing my wife likes, it's time. She'd rather be whisked away for a quick vacation with me, than unwrap a bag she won't use, or another pair of earrings she won't wear.  I know this because she's often walked around the house moaning (once she knows I'm within ear shot) that "Oh if only we had more time together!"  and "I wish we weren't so busy all the time. When are we going to have a break?" I also know that she likes thoughtful gifts, like picture collages of our years together with playlists of her favorite songs (sometimes I think she still feels we're in the "teenage love" stage), or a book of my prayers for her, handwritten letters, three course meals cooked from scratch (I'm still working on that one), and long massages after her stressful week of tweeting working and supporting me on the blog.
It may not need to be from Konga.com or even JohnLewis.com.  It doesn't have to have a designer name on it (she's not a fan of free advertising. "Why should I publicize Louis Vuitton's name for him? -She'll say- Him pay me money before?), and in fact, it doesn't have to cost anything at all.
As long as I put some thought into it, and give it to her because I think it reflects her wants or needs at the time, I should be home free….Right?
Fingers crossed.
What are some of the best gifts you've ever received from your spouse or significant other? Drop a note below and let us know!